The small TWIST bottle 450 has an optimized easy squeeze thanks to a softer material. The bottle cap has a high-flow valve that is self-sealing, leak-proof and comes with an optional dirt cover, so the mouthpiece stays clean out on the trail. 

This bottle can fit on any bike - big or small and is paired with a magnetic mounting system. 
Includes the TWIST bike base for mounting to the standard braze-ons.

Want to know how it will fit on your bike? Use our bottle fit template to find out!
- New rounded ergonomic design
- New improved squeezability
- New leak-proof, self-sealing bottle cap with a high - water flow valve and optional dirt cover
- 450 ml / 15.22 fl oz volume
- Perfect for small frames
- Dishwasher-safe
- BPA-free polyethylene
- Fits all TWIST bases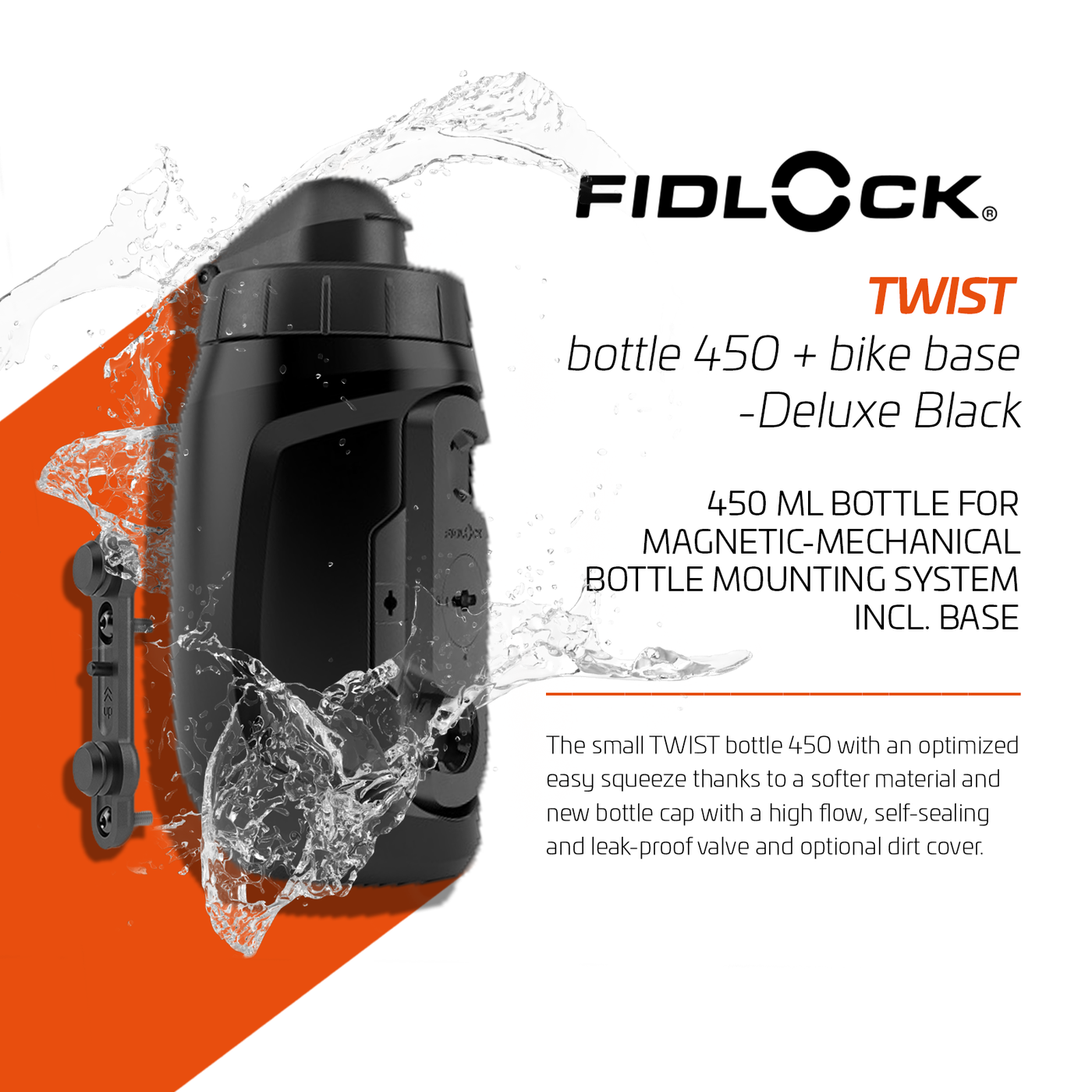 TWIST Bottle 450 + Bike Base
Our innovative TWIST Bottle + Base System provides you with the complete kit to mount your new, life-changing Fidlock hydration system anywhere. Available in multiple bottle sizes, find your bike's perfect fit using our bottle comparison and fit template page.
Excellent for hydration
The TWIST 450 bottle is easy to install and access for hydration on long rides. Also adds a professional look to your bike.
Super happy with my decision
That product is amazing and I cannot believe how the magnet sticks to the bike. I do a lot of Enduro and have never lost it. Also the Fidlock customer service is second to none. Great product, great people, top quality and exactly what I need to safely carry a bottle on my bike.
Fits on kids Cannondale 20
I got my son a Cannondale Quick 20. I wanted to get him a water bottle that would stay on his bike. I got this bottle for him and it is the perfect size. I love the dust cover. It keeps the grit out of his water.
Simple and perfect.
Will buy again, the powerful magnets and twist off system is brilliant.
Scott, your review was brilliant! Thanks for the support and don't forget to tag us in your social!
Left out?
To the best of my knowledge the bottle does not release from the left side? Disappointing, I assumed it did.
Hi David,
thank you for the review. So you don't feel 'left out' we are currently working on a left release addition to the system. As soon as it is ready, we will announce it. Any questions le us know at support at fidlock dot us