The TWIST bottle with its large 800 ml capacity was built for those extra-long rides. It has an easy squeezing, soft material and ultra-secure hold with a flexible and resistant belt-only technology, which is adhered to a special connector. The large TWIST bottle 800 is still compatible with all TWIST bases.

The lid is equipped with a self-sealing and leak-proof valve and optional dirt cover.
This item includes the magnetic bottle connector but does NOT include the bike base. You will need a corresponding base to use this item.
Strong hold thanks to new belt-only technology
Leak-proof, self-sealing bottle cap with a high water flow valve and optional dirt cover
Improved squeeze due to a soft, BPA-free polyethylene
800 ml / 27.05 fl oz volume
Dishwasher-safe
Made in Italy
Compatible with all TWIST bases
Not compatible with other TWIST bottle connectors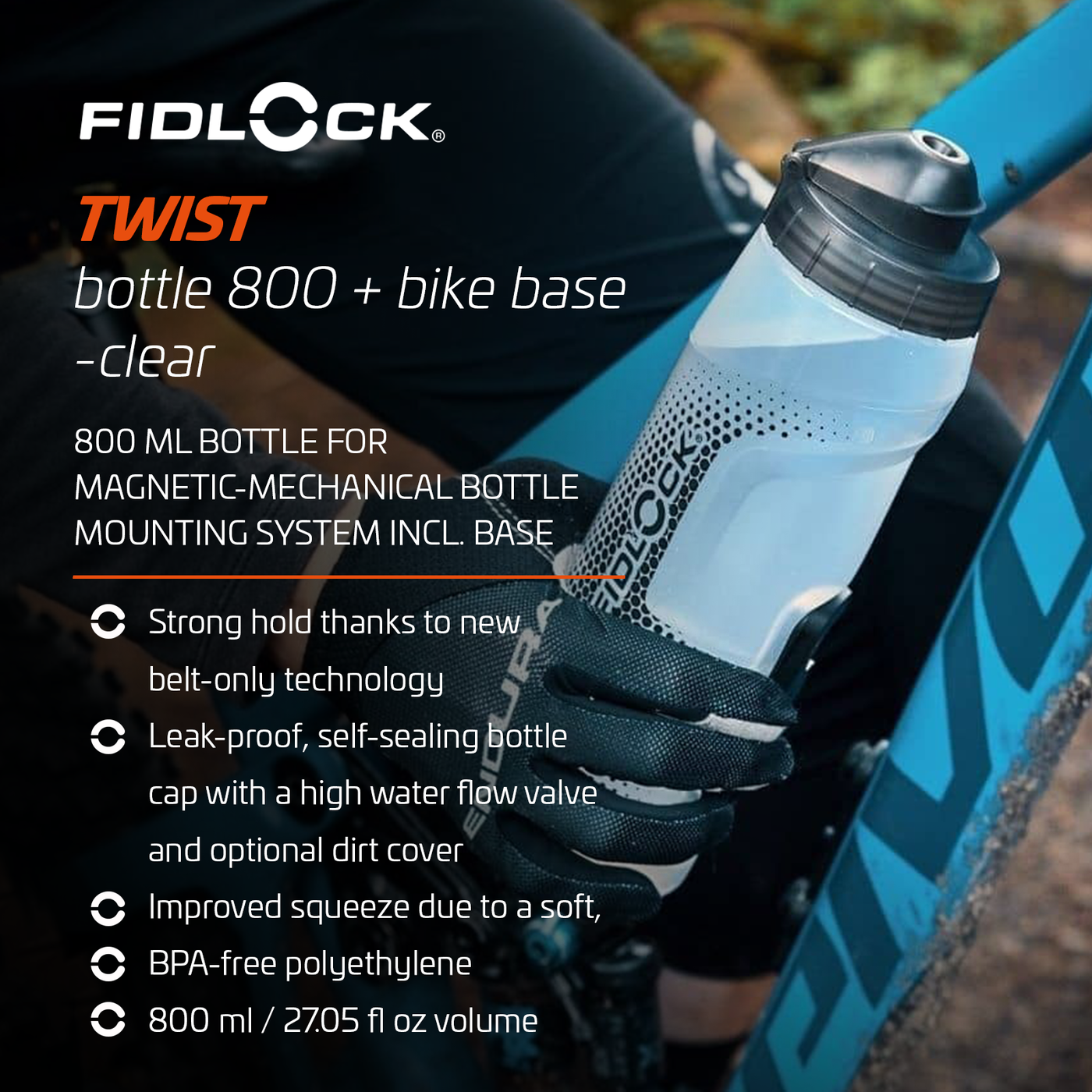 TWIST Bottle 800 + Bike Base
Our innovative TWIST Bottle + Base System provides you with the complete kit to mount your new, life-changing Fidlock hydration system anywhere. Available in multiple bottle sizes, find your bike's perfect fit using our bottle comparison and fit template page.
TWIST Bottle 800 + Bike Base
Great product, great idea. A bit expensive but innovation isn't always cheap.
Best cycling bottle+mounting systems available
First tested a Fidlock mounting system back in 2018. Since then, it's the only bottle+system I use. The 800 size bottle is perfect for everything from my commute to longer rides.
TWIST Bottle 800 + Bike Base Review
Absolutely Love It & the new TWIST Bottle 750 Compact + bike base. Bought them both at the same time because I was tired of losing bottles & I figured by time I spend the money on more bike bottles & bottle cages I might as well just spend that much once & Walla, problem solved, haven't lost a bottle yet & I just rode Ride Kanuga MTB Park this past weekend, not one bottle drop on those insanely steep & chunky trails. Definitely recommend...🤘🤙👍...
Love Fidlock!
Great system for mounting bottles to bikes. Bottle stays super secure, even on rougher rides. Also super sleek when a mount isn't in use.
Bottle itself is high flow rate and easy to squeeze.
All I want now is an insulated option to keep liquid cold during hot summer months.
Great but..
Great bottles but I have 2 issues with them.
1. Bottle caps keep leaking and bike looks like a mess on every ride. A rubber seal at the top could help..
2. Bottles rattle in magnet mechanism when rolling over small cracks on the road.
I contacted fidlock twice about the issue and no response so far.
Hi Gabe,
We understand it can be frustrating when things happen to our orders and no one seems to reach back out to you. Just wanted to thank you for the review, but also to let you know we have no emails from you. Did you send them to support at fidlock dot us?
Can you resend the ones you sent prior? We will fix this issue asap.