The TWIST bottle 590 comes in a new design with an improved connection technology that provides a strong hold on every ride - never lose a bottle again. The ergonomic design is compatible with bigger frames that makes snapping the bottle off and on the TWIST base even easier. 

The bottle cap has a high-flow valve that is self-sealing, leak-proof and comes with an optional dirt cover, so the mouthpiece stays clean out on the trail. 

The TWIST bottle 590 is still compatible with all TWIST bases and the connector, so upgrading your bottle can be easy at all times. 

Includes the TWIST bike base for mounting to the standard braze-ons.

Want to know how it will fit on your bike? Use our bottle fit template to find out!
- New ergonomic design for a more intuitive snapping on and off the TWIST base
- New connection technology for the strongest hold without the Gravity Kit
- New leak-proof, self-sealing bottle cap with a high water flow valve, plus an optional dirt cover
Improved squeezability from its soft, BPA-free polyethylene
- 590 ml / 19.95 fl oz volume with rounded edges offers a bigger frame compatibility
- Available Colors: Transparent black, clear
- Dishwasher-safe
- Fits all TWIST bases
- Base weighs only 16 g / 0.56 oz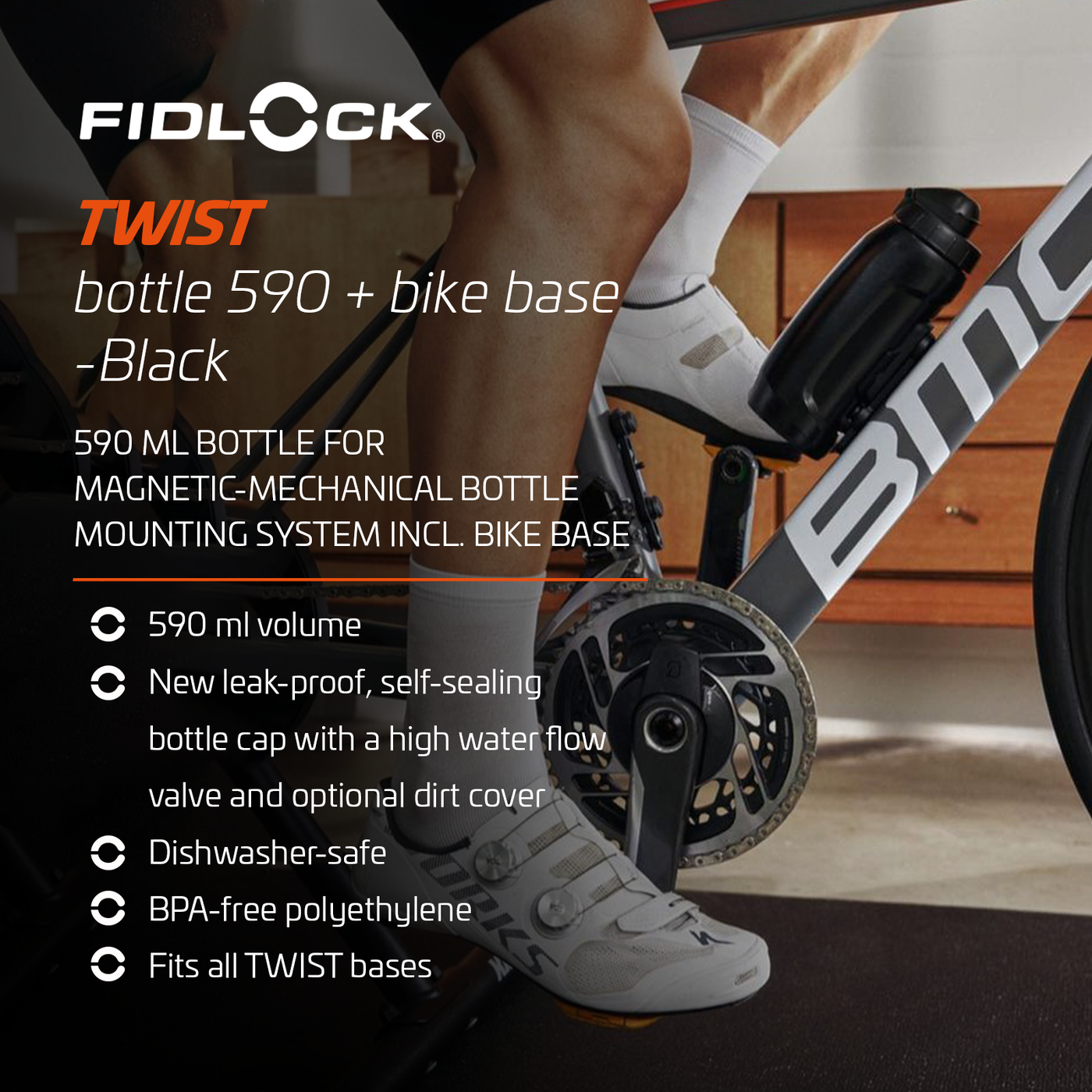 TWIST Bottle 590 + Bike Base
Our innovative TWIST Bottle + Base System provides you with the complete kit to mount your new, life-changing Fidlock hydration system anywhere. Available in multiple bottle sizes, find your bike's perfect fit using our bottle comparison and fit template page.
First class
Awesome products from a great company. Highly recommended.
Awesome Bottle with 1 issue
The good news is that this bottle stays on great while riding trails and the bottle didn't affect the flavor of the water.
The bad news is the bottle fell off my bike while on my bike rack and driving. The bottle did survive getting run over by a car but I ended up losing the cap somewhere and the magnetic bottle mount is cracked.
I bought a replacement bottle was able to transfer the mount to the new bottle and it seems to be good so far..... No more leaving it on the bike when driving.
Kenneth, sorry to hear about the missing man on the drive home. Thanks for supporting us. We appreciate it, and feel free to tag us in your social media to promote! Fidlock_Us
Just bad
I'm not sure if I got a lemon, but I cannot mirror these good reviews. My bottle feels so insecure when clipped that it's unusable. It shakes from side to side empty or full. Cool design and idea, but it just won't work for me. Of note, I hate leaving bad reviews…
Joel, we hate to hear you are having issues. Can you send images or video to support at fidlock dot us? I would like to see the connection to the bike, and then the connection to the bottle. You used our screws correct? We will make this right.
Look no further…Fantastic Water Bottle!
Incredibly secure and low profile fit make this water bottle a no brainer. Ran down one of the most technical mtb trails I've ever been on and had zero rattling or drops.
Joel, your review makes us secure in our relationship. Just don't tell your significant other.Thanks for the kind words!
Great bottle system
Easy to install. Works perfectly in my small bike frame. I really like how easy it is to remove the bottle and yet it feels secure when clicked in. I like that the bottle has a cap on the mouth piece to protect it form dust.
Rebecca, you are part of our click 'clique' for life! Thanks for your kind words and review.