All bottles age – even the TWIST bottles are not magic. Once the old bottle is worn down, the magnetic connector can be detached from the old bottle and can be easily re-attached to a new spare bottle. The modular system saves money and makes a bottle upgrade possible.

***Replacement Bottles Do Not Contain The Female Twist Component. If you need a bottle with the component, please check out Single Bottles***

- New ergonomic design for a more intuitive twisting off and snapping to the TWIST base
- New connection technology for a strong hold without the Gravity Kit
- New leak-proof, self-sealing bottle cap with a high water flow valve plus an optional dirt cover
- Improved squeeze due to a soft, BPA-free polyethylene
- 590 ml / 19.95 fl oz volume with rounded edges offers a bigger frame compatibility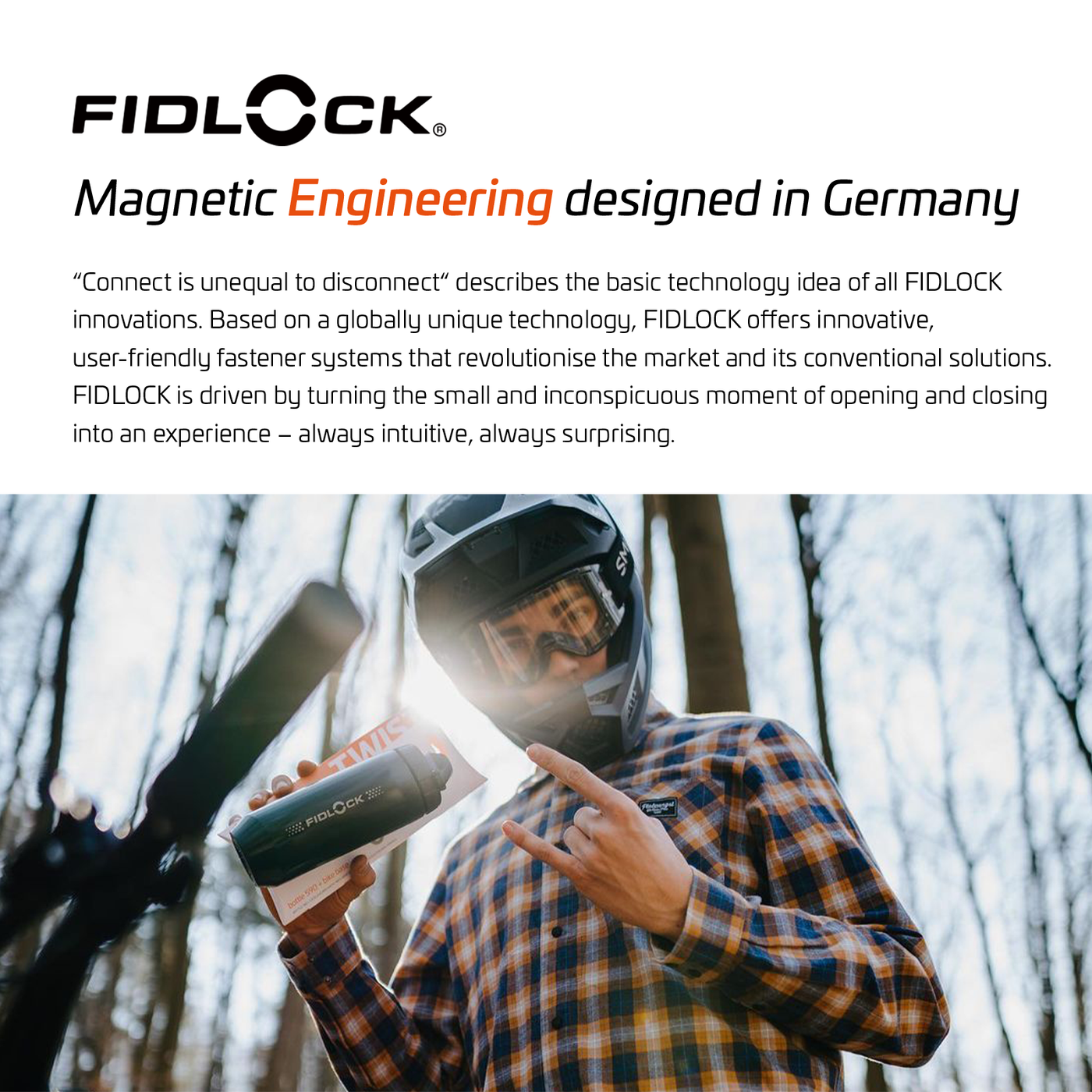 TWIST Replacement Bottle 590
Whether you are looking for a spare bottle as a mid-race hand-up or replacing a bottle that has been through the ringer, we've got you covered. Available with and without our magnetic connector, these new bottles are ready for your next shred session.
No Phil, you are awesome. Thanks for the review!
Boom
Great product and even better customer service.
Explosions are sweet, even sweeter was your review! Thanks Dylan!
Use code 'Review15' for a treat on your next order!
good upgrade from the 600
the thing that you sip through gives much better flow and it is easier to squeeze
New Bottle Design
My 1st gen bottle fell apart but Fidlock was quick to replace it. The new design has 6 welds compared to 2 on the old ones. The 1st bottle took a beating but I don't think I can break the new one! I'll never own a different bottle system.
Replaced older bottles w/ new ones
Used my existing mounts to swap from my old 600 bottles to the newer 590s b because I like the top cap better and the shape sits under my rear shock better with a little more clearance, making it easy to grab the bottle and put it back on trail.
Make sure if you swap the locking mech you have it facing the right way. I wasn't paying attention when I mounted the first one and it got stuck, making it near impossible to remove without nearly destroying it. The other bottle I did the right way after the malarky w/ the first one, and it was a lot easier.