Thanks to the combination of the innovative magnetic-mechanical FIDLOCK technology with the Boa® Fit System, every bottle can be turned into a FIDLOCK bottle. No matter if it's a PET-bottle from the corner shop or the banana for the huge climb – it can all be integrated into the FIDLOCK TWIST system with the TWIST uni connector.

Thanks to the TWIST uni connector, you have everything you want, when you want it.

Includes the TWIST bike base for mounting to the standard braze-ons.
- Fits any soft plastic bottle
- Easy installation with the Boa® Fit System
- Fits a diameter of up to 80 mm
- Anti-slip inlay for strong hold
- Fits all TWIST bases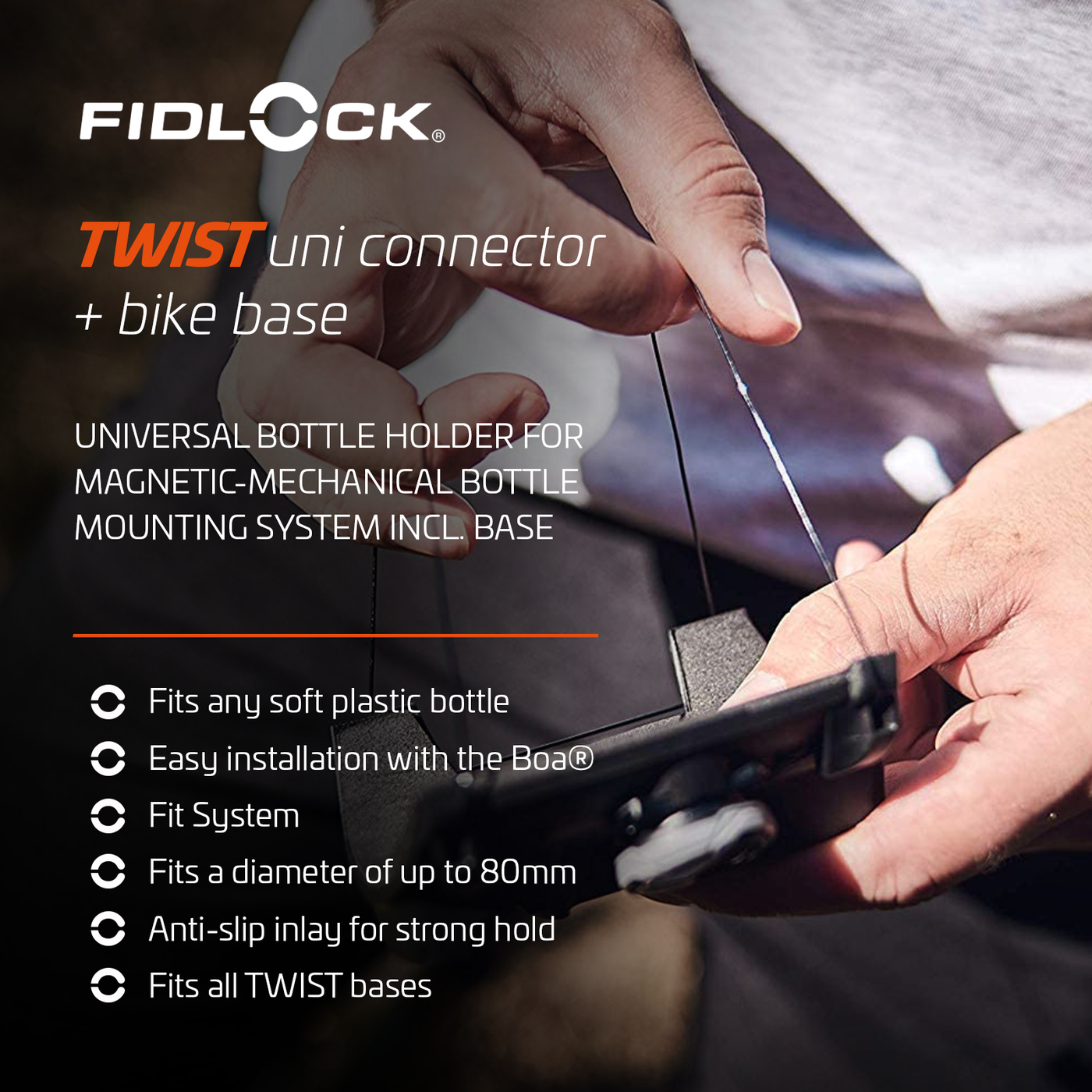 Universal Bottle Holder For Magnetic-Mechanical Bottle Mounting System
Our sleek TWIST bike bases offer the lightest and most-effective design ever; ready to be mounted to your old school bottle cages or anywhere you can fit the base with this universal version.

On the top tube, the down tube, or the saddle tube – the TWIST uni base can be attached anywhere on the frame.
Its amazing
Very convenient to be able to attache any water bottle
Great for all manner of things!
Love the simplicity and versatility of this product! After using with anything from standard bike bottles to post ride adult beverages, my favorite is using it with my reusable coffee mug during my morning commute or a social coffee cruise!
TWIST uni connector + bike base
Works great!
So far so good. I am using this with my other bottles. Works great!
It fits big nalgenes
I have a cabinet full of nalgene-type bottles. This fits them all. The bottles stay secure on bumpy NY roads. I am very happy.