Small magnetic self-sealing bag with patented closure system.

The HERMETIC dry bag multi is the perfect size if you are out and about with a few more items than you planned or if you have a smartphone in XL size with you. Even maps can be stored easily in your bag during a hike – of course so can more high tech GPS equipment.


- For XL smartphone and numerous valuables
- 100% water and sand proof
- Full phone functionality through case
- No interference with electronics and cards
- Lanyard included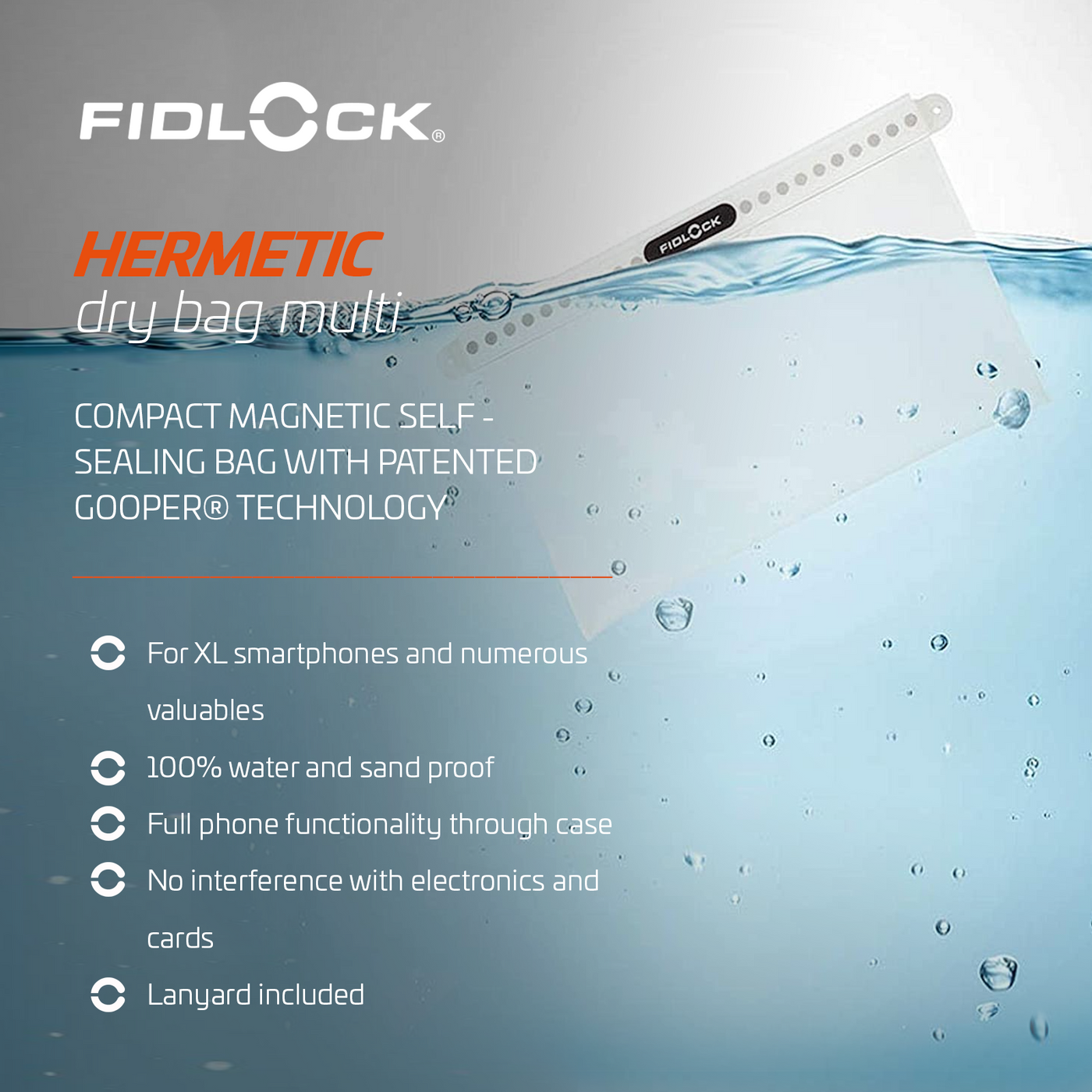 Small Magnetic Self-Sealing Bag
Protect what is yours! Our Hermetic dry bags offer the best, quickest and easiest solution to keep your most valuable possessions safe while you enjoy living your life to the extreme. Simply place your phone or wallet in the bag, let go of the opening, and watch as the magnetic seal quickly locks and protects against all the elements: water, dust and even the finest sand. This is our "just-let-go principle" – the bags close immediately and automatically. No manual locking, clicking, pushing, or snapping.
Great dry bag
This is perfect for my phone and key fob when I go fishing. The magnetic seal feels solid
Great Drybag
I gave this drybag as a gift to my dad who loves to kayak. The materials on this bag are top-notch and the magnetic seal is amazing! This is a much better product than his former finicky drybag.
Great for stuff
This is another great waterproof bag. But do keep in mind this does not fit a regular sized iPad. But is great for car key fob, smartphone, and credit cards etc. When you plan outside a bunch these bags are super useful. Also nice to have in your suitcase traveling for when things explode and does not ruin your clothes.