KEEGO is the innovative bottle made of elastic titanium – the outside is made of durable and lightweight plastic for easy squeezing, while the inside is coated with titanium so that the water remains free of micro-plastics, safe from mold and absolutely tasteless.

Together with the TWIST system, the KEEGO bottle can be attached to the bike without a conventional bottle cage and instead with the innovative magnetic-mechanical FIDLOCK technology.
Delivery incl. TWIST bike base for screwing to the threaded inserts.

-KEEGO bottle made of elastic titanium with TWIST system by FIDLOCK
-Easy squeezing thanks to BPA-free polypropylene outside
-Real taste without microplastics and mold thanks to titanium coating inside
-Durable and sustainable thanks to easy cleaning and corrosion resistance
-Drip-proof EasyClean lid with mouthpiece made of medical grade silicone
-600 ml bottle volume
-Made in Denmark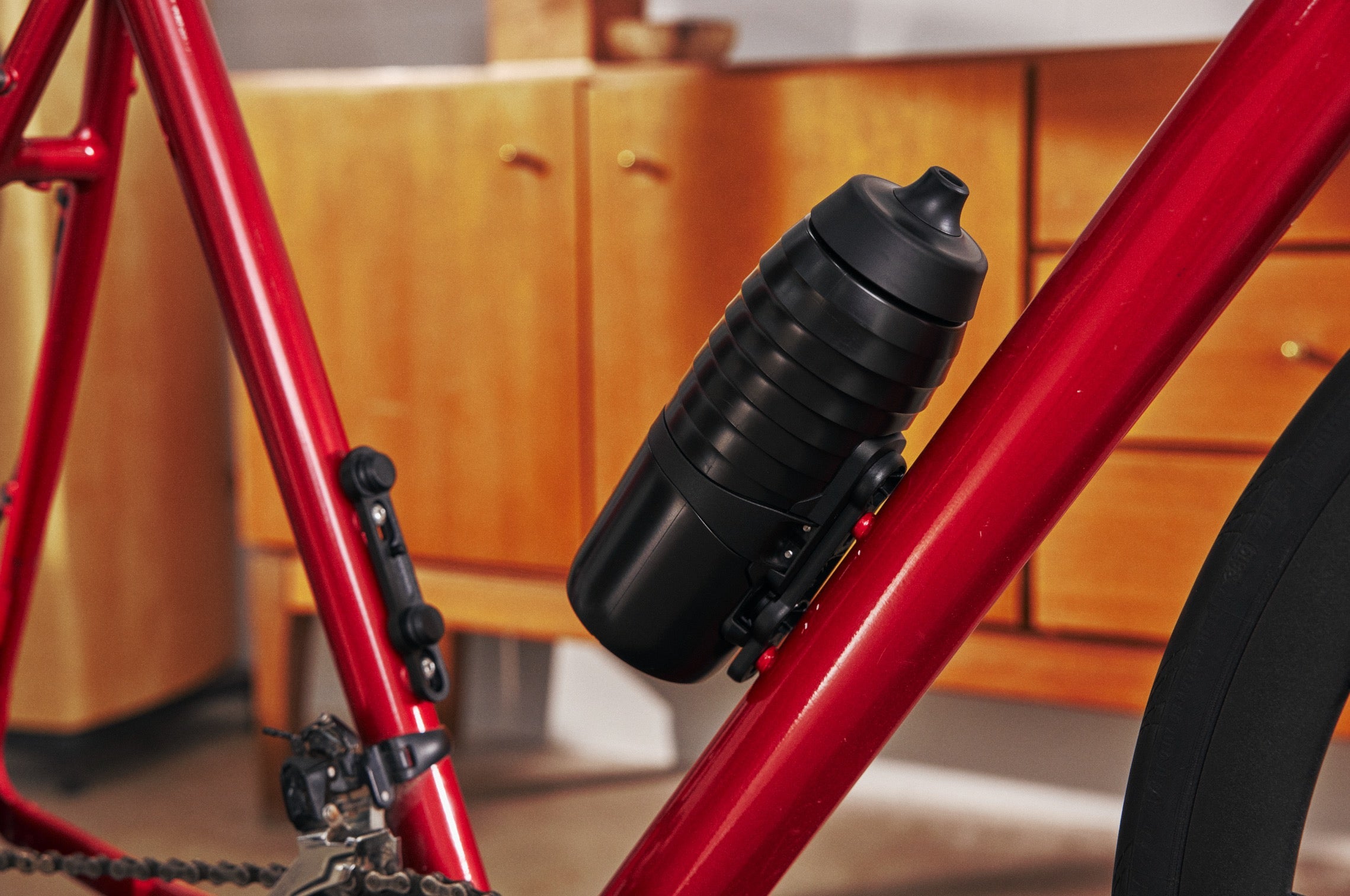 TWIST x KEEGO
KEEGO is the innovative bottle made of elastic titanium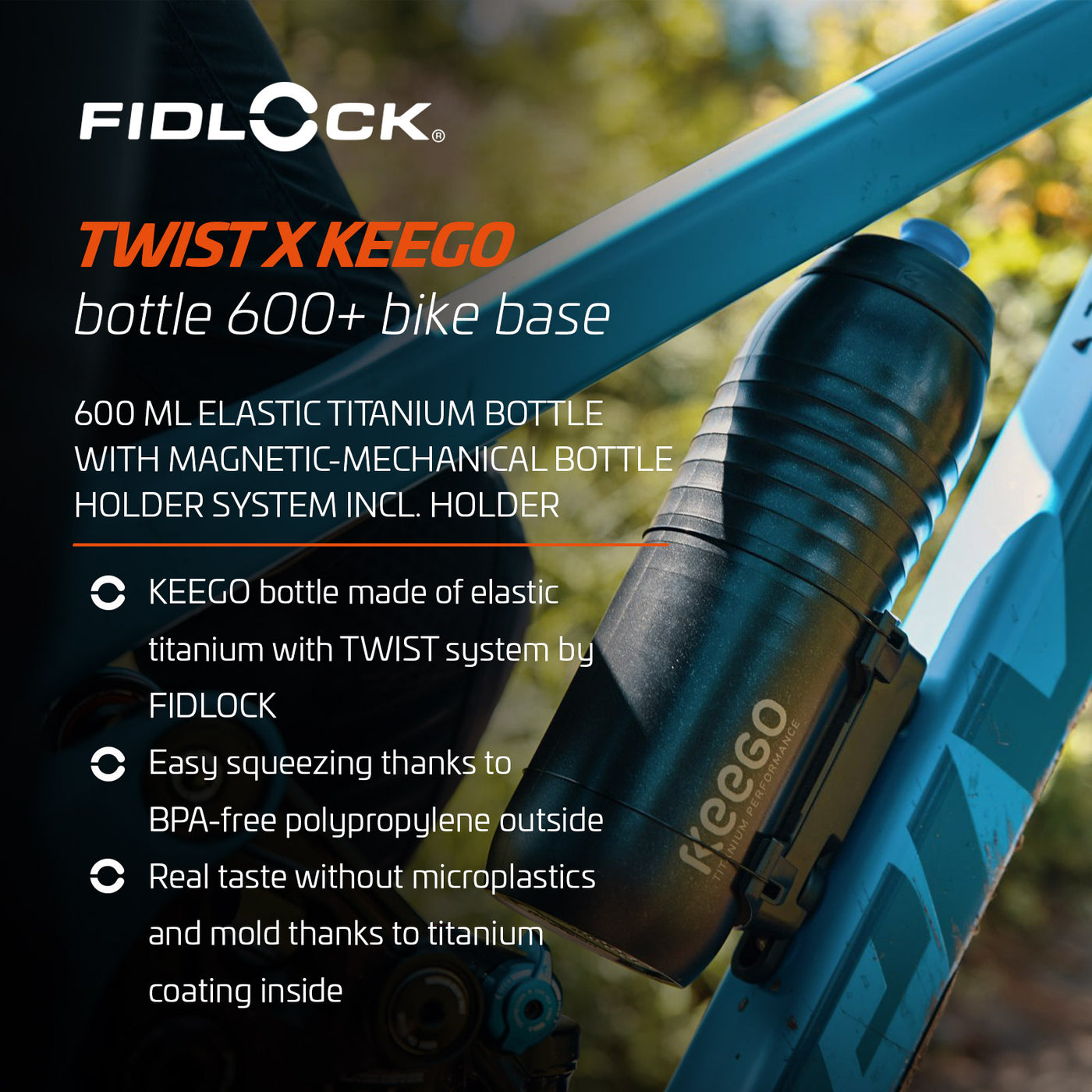 TWIST x KEEGO Bottle 600 + Bike Base
Our sleek TWIST bike bases offer the lightest and most-effective design ever; ready to be mounted to your old school bottle cages or anywhere you can fit the base with this universal version.

On the top tube, the down tube, or the saddle tube – the TWIST uni base can be attached anywhere on the frame.
Works perfect
Worked exactly as expected. We needed a low profile 'cage' mounted to an Ortlieb ultimate 6 bag so the cage doesn't interfere when the bag is removed and being carried with the strap. The magnetic lock that lines up automatically is ingenious!
The mounting system is super cool! Works as it should. The bottle is soft and easy to squeeze. The liner should keep the water tasting normal. No plastic smell.
Great bottle not for mtb cap
Bottle works great good taste. But for mountain biking the caps leaks all over the place. Not sure how much but it gets all over the bike. Just stand and shake it you get the idea. Can't wait for the v2 cap
Hey Jason,
Sorry to hear about the cap on the Keego, it should not be doing that. Kindly email us at support at fidlock dot us and we will replace.
Fidlock tech and security with no plastic touching the water!
So let me preface this by saying I own 4 of these bottles. In short, I bought one then bought 3 more! These are an excellent non-leaching bottle as the plastic lid doesn't touch the water between the medical grade silicone and seal (one piece).
Pro's:
Non-leaching
Easy to clean
Holds a comparable amount of water to a traditional waterbottle
The fidlock tech works great for any style of riding and doesn't shake loose
Con's:
The vavle can get dirty as there is no cover (it's an exposed bite valve but easy to clean even on the trail)
Pricey! But it's titanium and Fidlock offers discount codes often.
Not as much water per squeeze as a specialized big mouth bottle but I didn't notice that big of a difference overall.
Again, I own 4 and I use them on all of my bikes for all types of riding. They are slightly heavier but so much more secure than other cages and styles. Overall, considering the price and Fidlock USA's awesome customer service I highly recommend these bottles. They are much lighter than any other plastic alternative I have found and don't seem to loose their shape with repetitive and aggressive use. They can hold hot beverages and cold beverages though the bottle is not really insulated so don't expect the temps to hold for long periods of time.
Spout is low flow
This bottle looks awesome and the flexible titanium lining is cool tech. But the spout on the lid is very restrictive. It feels like it takes at least 5 times as much time to get the same volume of water out of this bottle compared Fidlock's other new bottles like the 590. Unfortunately this bottle uses different threading, so the lids cannot be swapped. Until a replacement lid is available, I won't be using these on my bike. It just takes too long to get enough water.