The new TWIST bottle with 800 ml capacity for those extra-long rides. Easy squeezing thanks to soft material and ultra-secure hold thanks to the belt-only technology consisting of a flexible and resistant belt, which is screwed to a special connector. Of course, despite the new technology, the TWIST bottle 800 is still compatible with all TWIST bases.

Equipped with our lid with a self-sealing and leak-proof valve and optional dirt cover.
This item includes the magnetic bottle connector but does NOT include the bike base.  You will need a corresponding base to use this item. 
Strong hold thanks to new belt-only technology
Leak-proof, self-sealing bottle cap with a high water flow valve and optional dirt cover
Improved squeeze due to a soft, BPA-free polyethylene

800 ml / 27.05 fl oz volume
Bottle connector included
TWIST Base NOT included
Color: black
Dishwasher-safe
Made in Italy
Compatible with all TWIST bases
Not compatible with other TWIST bottle connectors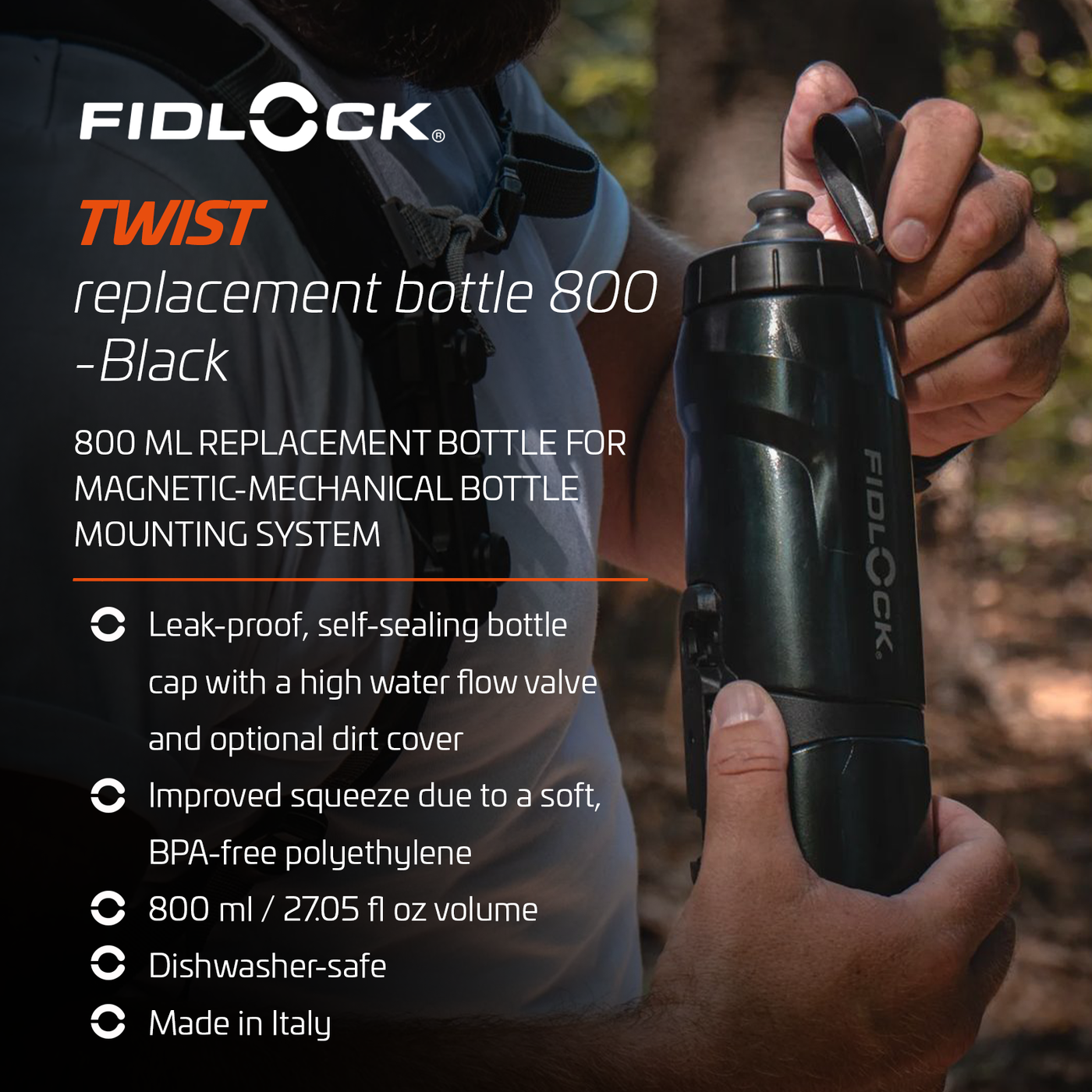 TWIST 800 Single Bottle
Our innovative TWIST Bottle + Base System provides you with the complete kit to mount your new, life-changing Fidlock hydration system anywhere. Available in multiple bottle sizes, find your bike's perfect fit using our bottle comparison and fit template page.
great bottle
comes on and off the bike with ease
great bottles for MTB riding
I now own 4 fidlock bottles - my son uses 2 and I use 2. We both ride and/or race mountain bikes (cross country and downhill). no issues with the bottles and the only time a bottle fell off was when my shorts caught the lid and pulled it off - this was the only time in 3+ years. highly recommend.
Jared, thanks so much for the support. Follow us on Instagram and share some videos for us to put in our story!
Twist 800 - Big volume for big rides
Love my 800ml Fidlock. Extra volume for big rides. Fidlock customer service is awesome!
Perfect!
If it fits in your front triangle it's awesome.
Jack, we love triangles! We are glad you love your 800 Twist!
Best water bottle out there!