The small TWIST bottle 450 with an optimized easy squeeze thanks to a softer material and new bottle cap with a high flow, self-sealing and leak-proof valve and optional dirt cover.

Kids bike or fully – paired with the innovative magnetic-mechanical mounting system there is no frame too small for this bottle.

Includes the TWIST uni base for attachment to any tube with re-closable zip ties.
- 450 ml / 15.22 fl oz volume
- New leak-proof, self-sealing bottle cap with a high - water flow valve and optional dirt cover
- Dishwasher-safe
- BPA-free polypropylene
- Fits all TWIST bases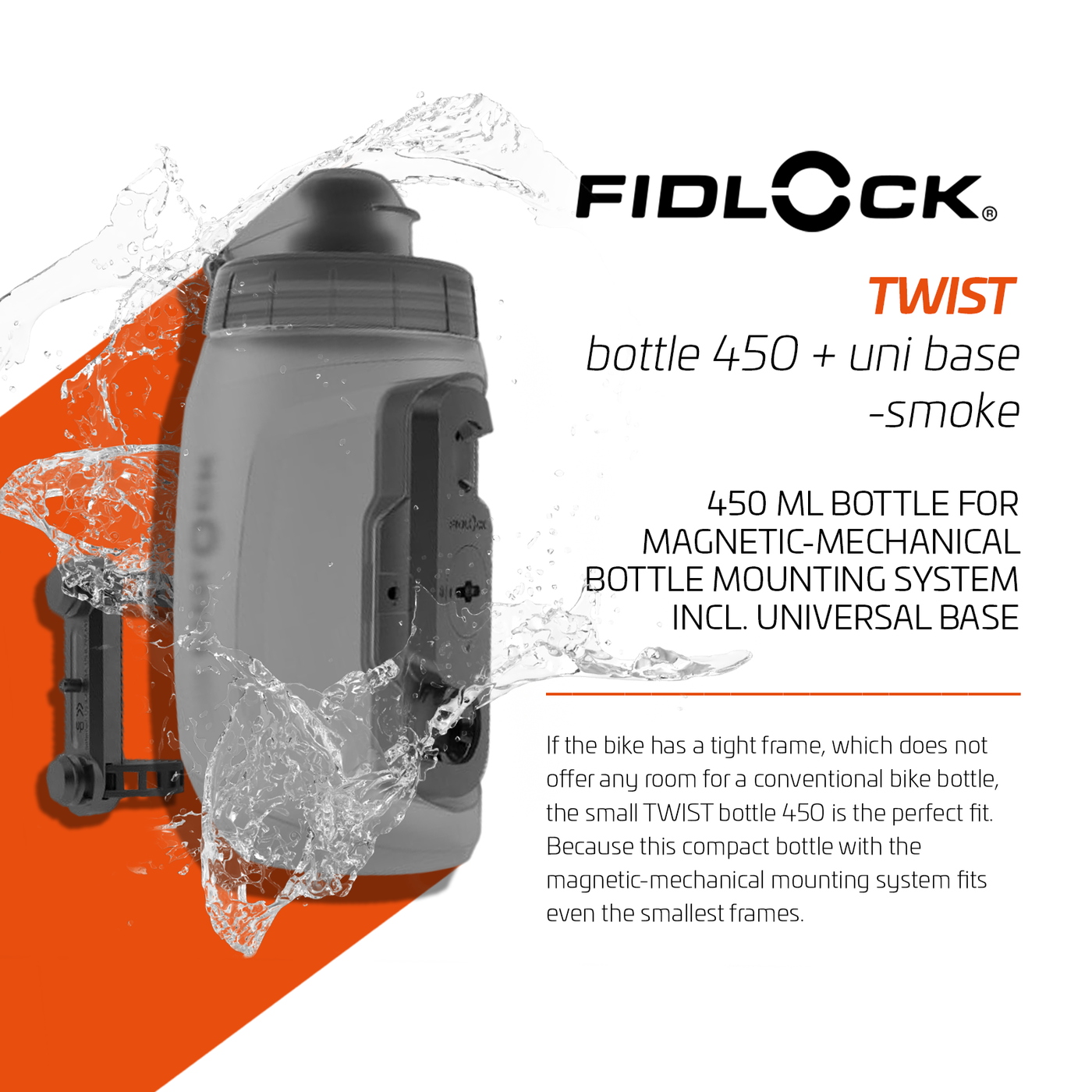 450 ml Bottle For Magnetic-Mechanical Mounting System
Our innovative TWIST Bottle + Base System provides you with the complete kit to mount your new, life-changing Fidlock hydration system anywhere. Available in multiple bottle sizes, find your bike's perfect fit using our bottle comparison and fit template page.
Life-Saver
The uni-base and the little bottle are the only reason I can have any water on my 180mm travel enduro bike (from before the days of bottles on everything and downframe storage). Jumps, drops, crashes…nothing knocks this bottle off, but then it comes off with ease the moment you want it. If you don't think you can fit something on your bike, I guarantee you Fidlock has a solution to prove you wrong. Underseat bag, frame bag, water bottles, the sick boa thing that lets you strap down ANYTHING when you inevitably forget your water bottle, I've never seen a Fidlock product that hasn't worked flawlessly and I've loved every single one. Cannot recommend more.
Great for tight spaces
Great little bottle for tight spaces or unorthodox mounting locations. I have mine on the underside of the downtube. No problems so far, and the valve cover keeps dirt off the valve. Would recommend as an additional hydration source for longer rides, or primary source on short rides. The only improvement I would recommend would be a way to secure the excess rubber strap on the universal base.