The TWIST bottle 600 revolutionized the bike bottle. Without the conventional bottle cage, this magnet-mechanical bike bottle system offers a new kind of freedom in handling and application.
It is simply released from the bike with an easy "TWIST" movement and just as easily reattached by bringing together the magnetic holds, which include a mechanical locking system.

Delivery includes:  

TWIST 600 bottle  

TWIST uni base incl. TPU cable tie 

Instruction manual
The original - reinvented!
New design and improved connector technology
600ml bottle capacity
Dishwasher safe up to 50°C
BPA free polypropylene
Fits all bike frames Quick and easy to fit
Elastic and re-sealable rubber straps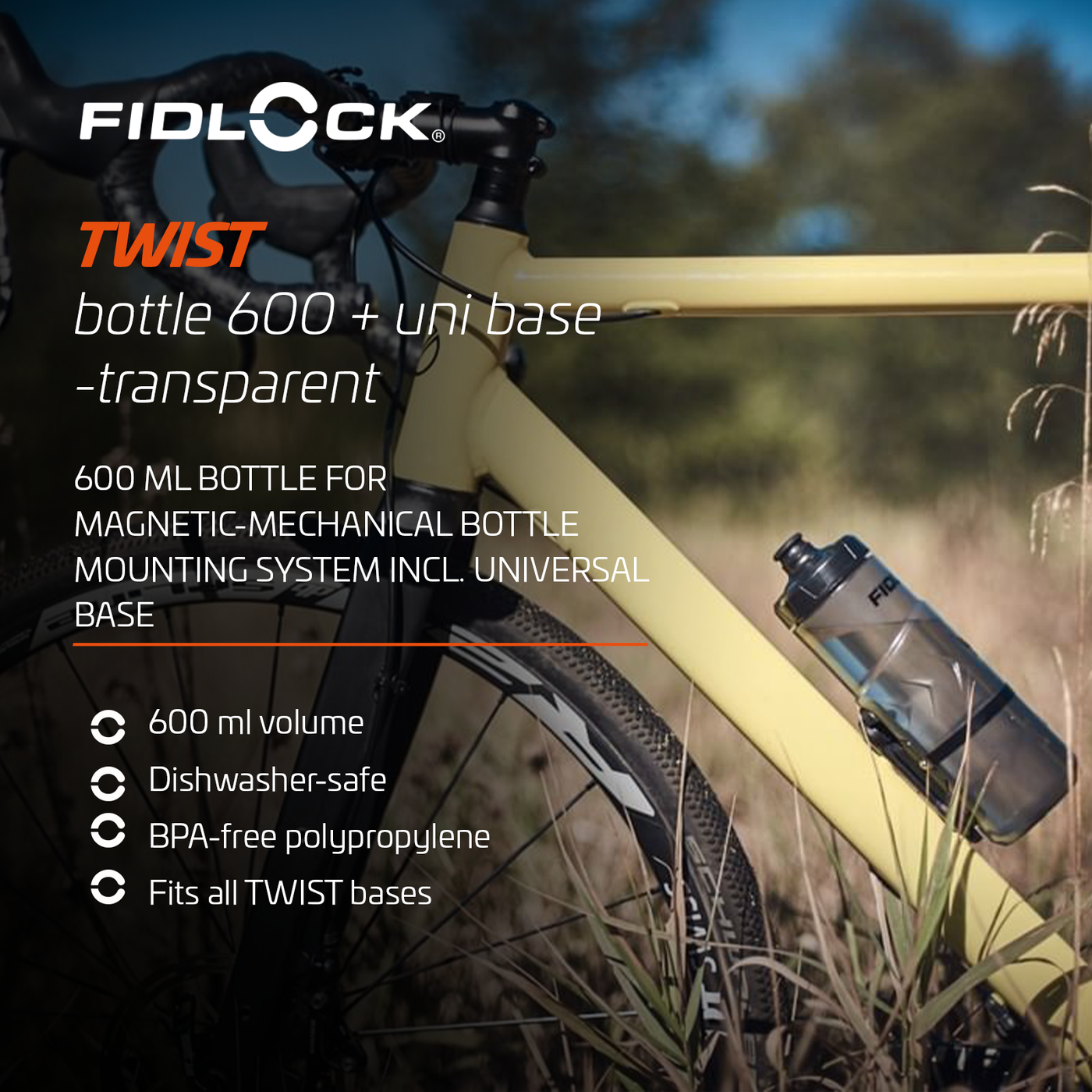 TWIST bottle 600 + Universal Base
Our innovative TWIST Bottle + Base System provides you with the complete kit to mount your new, life-changing Fidlock hydration system anywhere. Available in multiple bottle sizes, find your bike's perfect fit using our bottle comparison and fit template page.
Fidlock bottle
Good bottle like the product
Love my Fidlock
Great product, even bought a second uni base for another bike!
Nice bottle
I like that the uni base let's me add a 2nd water bottle for the summer and the mount isn't too visible when not being used and the magnetic attachment is pretty cool
That said the bottles themselves feel a bit thin and aren't the easiest to get a fast drink from but I haven't had any issues yet
The mounting straps could be improved they don't really lay flat and they're very long it wouldn't really be an issue if the price point were lower but for a $65 water bottle the straps aren't impressive since there's various options for $20 or less to strap another water bottle mount to your frame
Put a bottle anywhere
I used this to mount a bottle to the top tube of my gravel bike so I could carry more water on long rides. It works great and allowed me to ditch my hydration pack. You can probably mount this anywhere if you need to add more bottles for big days - like putting two on your fork.