All bottles age – even the TWIST bottles are not magic. Once the old bottle is worn down, the magnetic connector can be detached from the old bottle and can be easily re-attached to a new spare bottle. The modular system saves money and makes a bottle upgrade possible.

***Replacement Bottles Do Not Contain The Female Twist Component. If you need a bottle with the component, please check out Single Bottles***

- Dishwasher-safe
- New leak-proof, self-sealing bottle cap with a high water flow valve and optional dirt cover
- BPA-free polypropylene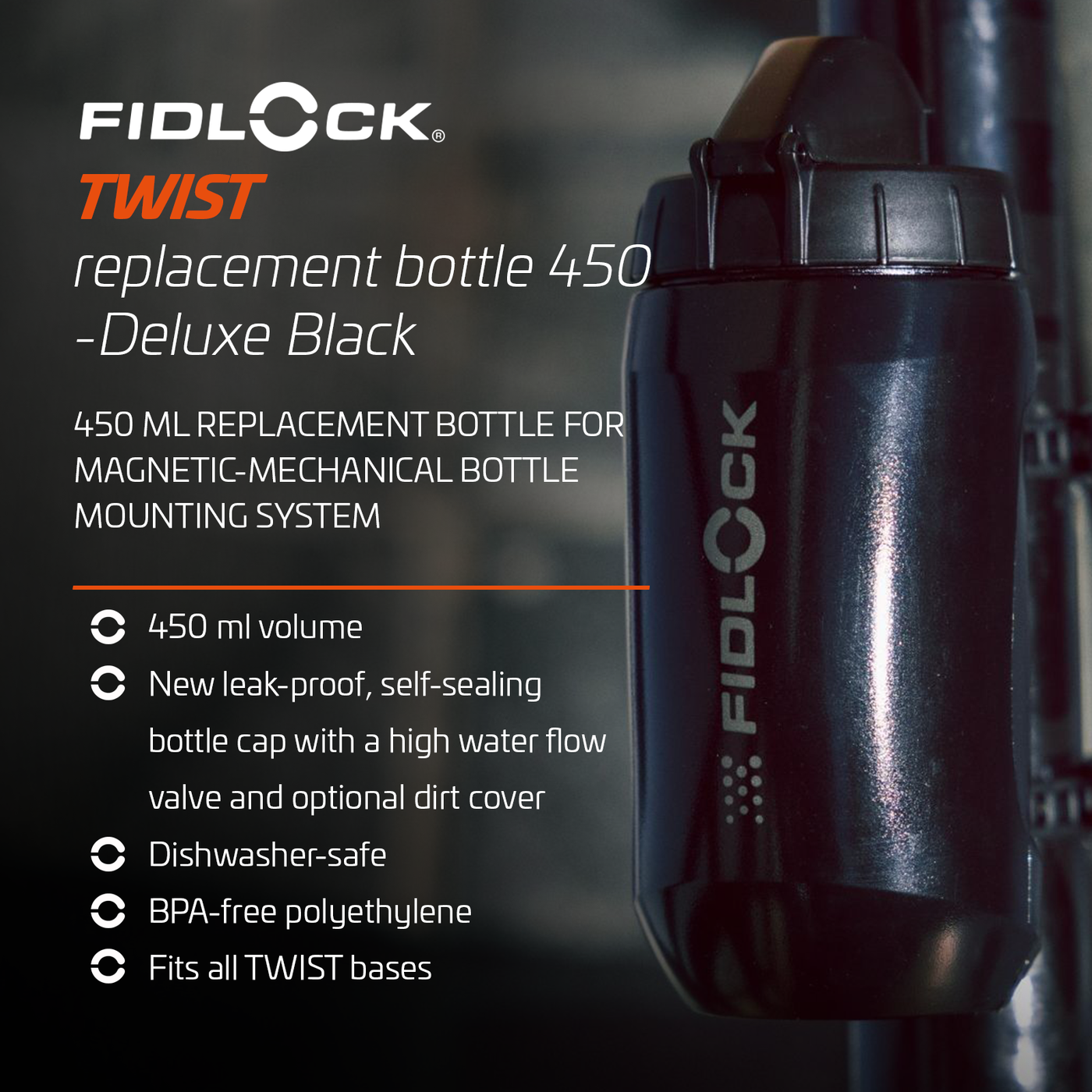 TWIST Replacement Bottle 450
Whether you are looking for a spare bottle as a mid-race hand-up or replacing a bottle that has been through the ringer, we've got you covered. Available with and without our magnetic connector, these new bottles are ready for your next shred session.
450 Bottle
A bottle is a bottle. Difference is these stay put!! raced several enduros and bombed plenty of mountain trails. Never lost a bottle.
Awesome Water Bottle
I absolutely love this bottle. My boyfriend and I both have these bottles & they are so easy to use.
Love the bottle super easy to use while biking and very secure through the rough stuff
Great Item
Great item and very easy to use but I think I need a bigger one
Great addition for full suspension frames
I received the Fidlock 600 bottle and connector as a gift for my new bike, but found that the larger bottle was slightly too tall and interfered with the bike's rear shock. The smaller 450 size is a perfect fit. I am really impressed with the locking system and I can't wait to use it on the trail where regular bottle cages can sometimes be a challenge when removing and re-seating the bottle while riding. I am also interested in some of the unique storage bag options, especially if they work as well as the bottle mounts do.