The TWIST tex base multi is the latest addition to the TWIST family and brings maximum versatility for using bottles off the bike. The same combination of magnetic convenience and mechanical security you've come to trust on the bike can now go with you anywhere.
The tex base multi includes the original tex base for attaching to horizontal webbing such as MOLLE or Belts but also includes an adapter plate to accommodate the shoulder straps of your favorite backpack for a versatile "2 in 1" system.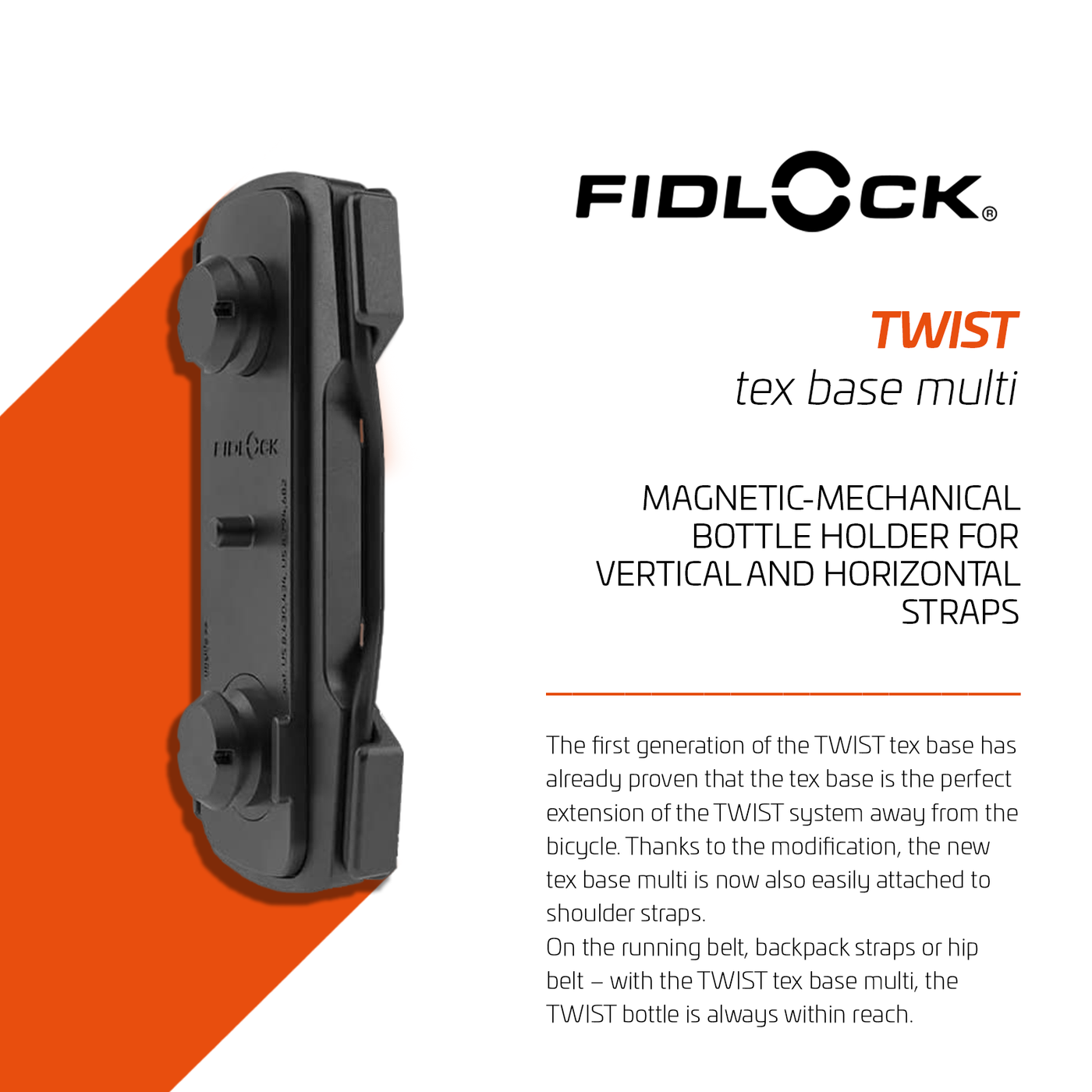 TWIST Magnetic-Mechanical Bottle Holder - multi
Our Tex Bases are a game-changer, allowing you to easily add a mount for your TWIST bottles directly to the strap of a backpack, hip-pack, or even your belt. Simply choose between the standard Tex Base with two plates that sandwich a strap or the Tex Base Multi, which can be quickly and easily mounted to a variety of locations on your favorite bike

The TWIST tex base is made up of two plastic plates that are connected with two magnetic screw bolts – simply lay the strap or textile in between the plates, screw in the magnetic bolts, done!
bottle on my belt
I got this to add a bottle to my belt, turns out the textile adapter was all I needed for that. So this is going on my backpack!
Ben,
Thank you very much for your review! Send pics to our Instagram handle, Fidlock_US!
Excellent product
Definitely will buy this product again , very useful and handy .
Awesome
Awesome design for shoulder strap and molle attachment, no longer required external water pocket for backpack
Let's me add waterbottle to my waist pack
Love this new base. I was able to add the 450ml bottle to my waist pack easily. Now I can have a little more water on my MTB rides.
Easy way to add water to a hip pack or backpack
Bought this so I could add an additional water bottle to a hip pack. My bike can only use the small fidlock bottle which for me lasts 30 minutes. This clips over the Ergon hip pack and I can carry an additional 20 oz for a longer ride. For All day rides I would use a hydration pack and if I needed to I could add a bottle to the shoulder straps. Great piece of kit.