Thanks to the combination of the innovative magnetic-mechanical FIDLOCK technology with the Boa® Fit System, every bottle can be turned into a FIDLOCK bottle. No matter if it's the PET-bottle from the corner shop or the banana for the huge climb – it can all be integrated to the FIDLOCK TWIST system with the TWIST uni connector.

Thanks to the TWIST uni connector, you have everything you want, when you want it.
Includes the TWIST uni base for attachment to any tube with re-closable zip ties.
- Fits any soft plastic bottle
- Easy installation with the Boa® Fit System
- Fits a diameter of up to 80 mm
- Anti-slip inlay for strong hold
- Fits all TWIST bases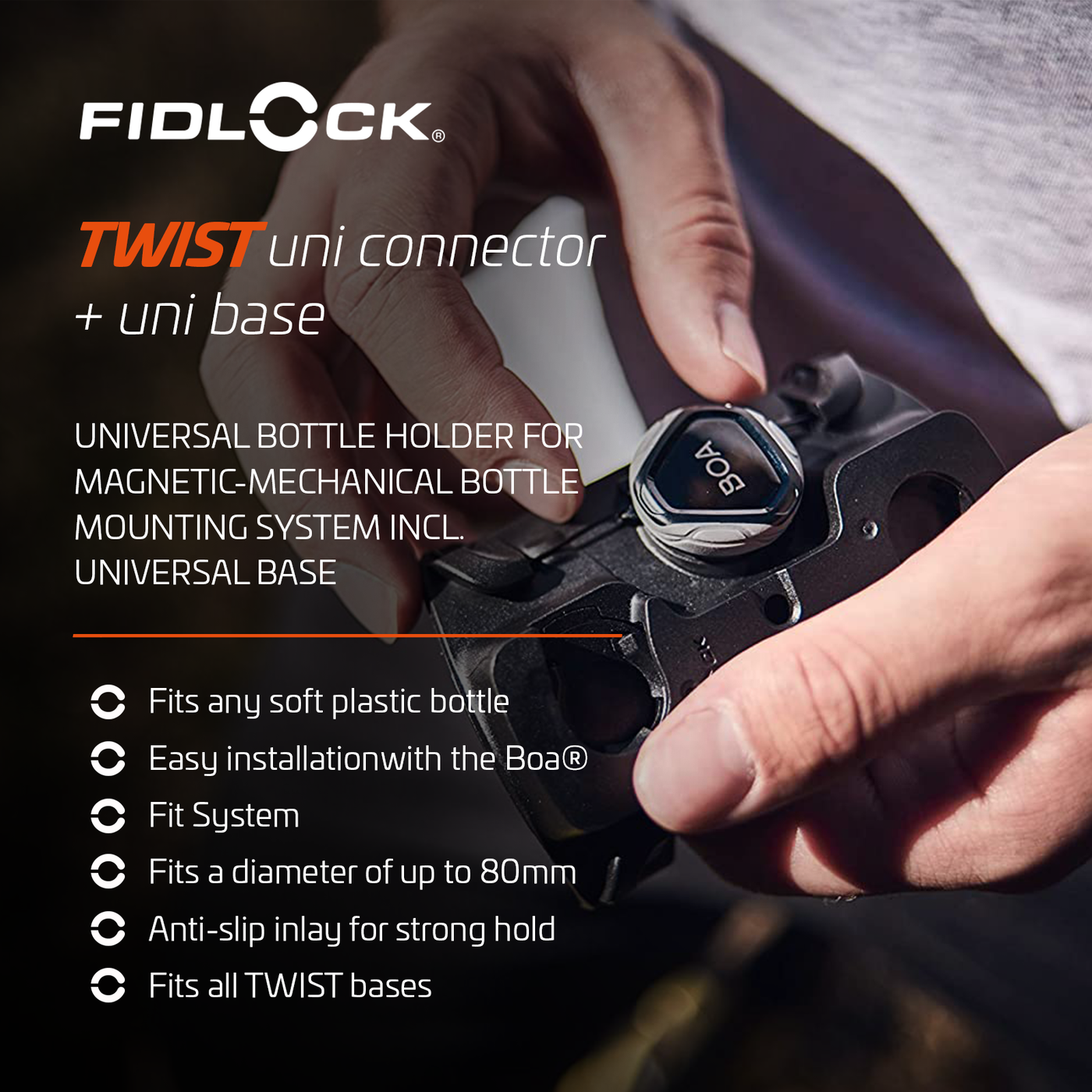 TWIST Universal Bottle Holder For Magnetic-Mechanical Bottle Mounting System
Our sleek TWIST bike bases offer the lightest and most-effective design ever; ready to be mounted to your old school bottle cages or anywhere you can fit the base with this universal version.

On the top tube, the down tube, or the saddle tube – the TWIST uni base can be attached anywhere on the frame.
Very adaptable!
We have a stand up bike (an ellitipigo) and finding a bottle system for it was next to impossible. The Fidlock uni connector and base solved the problem. Super stable, easy to install (and take off if needed). What's not to like? I'm thinking about getting Fidlock for my "regular" bikes too.
Elizabeth, your review is 'stand up'! We appreciate the kind words. Now stop reading this and go out and shred!
Unlock the Power of Fidlock's Innovative Designs
Fidlock's Uni-Connector and Base are truly impressive products. The magnetic fastening system is a game-changer, providing a secure and reliable connection that is incredibly easy to use. The design is sleek and modern, adding a touch of elegance to any product it's incorporated into.
The Uni-Connector and Base offer a remarkable level of convenience, making it effortless to attach and detach items with a simple magnetic click. This not only saves time but also ensures a strong and stable connection, giving users peace of mind.
The attention to detail in the design and craftsmanship is evident, as the Uni-Connector and Base feel robust and durable. The versatility of these products is also commendable, as they can be applied to a wide range of applications, from bags and accessories to garments and more.
Fidlock has truly excelled in creating a user-friendly and innovative solution with the Uni-Connector and Base. It's clear that a lot of thought and expertise went into developing these products, and they are sure to impress customers looking for a reliable and stylish fastening system.
I can't wait to see what comes out next for additional camera attachments and uses!
Thank you Fidlock!
#fatbikeamerica
Fidlock connector holds well; installation is not so good
The Fidlock connector itself works well. The rubber straps that hold the base to the bike are less than optimal. There is no way to dress the ends, even by cutting them off; the "buckles" stick out in the way. Also, the Boa connector base only properly fits one specific diameter bottle. Additional Fidlock bottles are rare and expensive.
Works like a Champ!
The Uni Base is perfect on my recumbent trike. I have it mounted on the middle spine in front of me. So convenient! I even tried it on my thicker backpack straps because the Tex Base Multi couldn't wrap around. It works perfect. I'm going to buy another Uni Base specifically for my bags. The Uni Connector is so versatile. I've tried 20oz bottles to 40oz double walled hydro flasks. What I love to is that the BOA system seems strong enough that I could attach my phone (carefully), or some snack bags, and yes even a banana! I'm still getting used to the BOA system. A couple of times I thought I snapped the string off. They are thin strings but I trust the engineers at Fidlock chose it for a reason and with practice I'm sure it will be just fine. A+++++