Please note: This is a 2 part system! You need a patch or phone case for VACUUM to work.
The best mount ever! Our VACUUM phone mount uses a unique combination of suction and magnets to securely attach your phone to your bike, your car's dashboard, your desk or your workstation.


Your phone can be easily positioned and connected to the mount through the magnetic guidance while the vacuum force keeps it securely locked. Even in the case of a strong impact, the vacuum pressure from the suction cup will hold the phone securely.

The centering of the smartphone is ensured by the magnetic force, so the suction power is always guaranteed. The smartphone is released by simply pressing a lever on the side of the phone base.

Thanks to the ingeniously simple combination of magnetic force and vacuum pressure, the smartphone can be operated with one hand and is 360° rotatable, while a ratchet prevents it from rotating during a ride - even on roughest of trails!

Super lightweight and strong, our phone mounting system consists of a base (available for various applications) and a special, ultra-thin smartphone case with an embedded geometry.

The slim case protects the smartphone on and off the base. The understated elegance of our stealthy case with its shock-proof TPU surrounding is accompanied by a stylish as well as practical ratchet and recessed geometry. The soft material on the inside protects the phone's backside.

The stem-cap mount consists of a special cap, which is screwed to the head tube. The base is then placed on the cap and is easily secured with a clamp using a knurled screw, or theft-proof with an Allen screw. The ahead cap base can thus be quickly removed when no smartphone is needed, while the plain cap remains screwed to the bike. 

Please note: This is a 2 part system! You need a patch or phone case for VACUUM to work.
VACUUM phone case not included. Buy one here
VACUUM Patch is not included. Buy it here
- For installation on the ahead cap
- Fits all 1 1/8" threadless headsets
- No interference with electronics
- Fits all VACUUM smartphone cases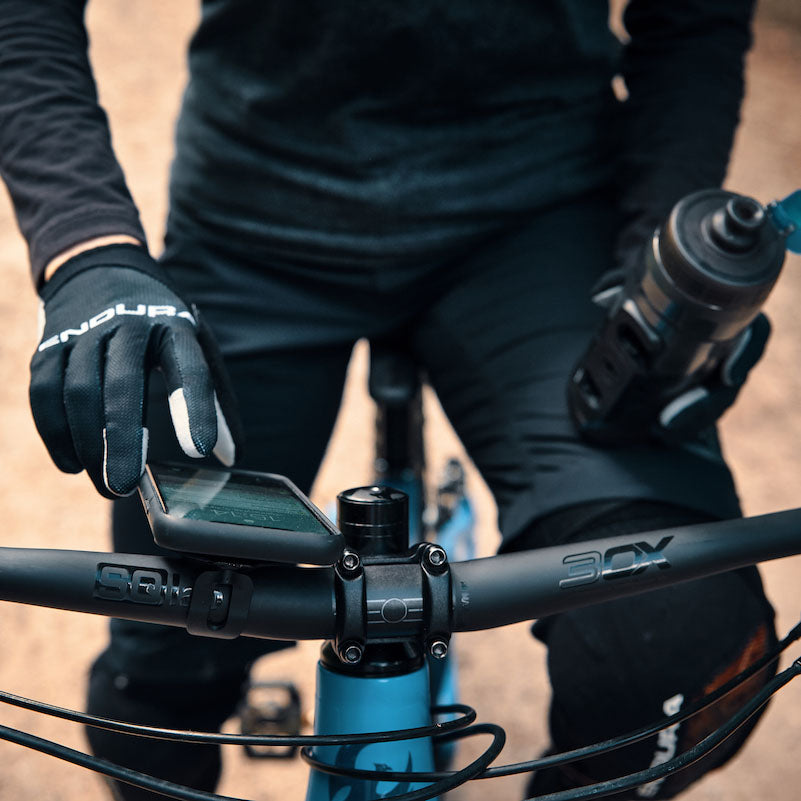 VACUUM Stem-Cap Base For Smartphone Mounting
Our unique VACUUM phone mount uses an ingenious combination of two invisible forces to securely attach your phone to your bike, but also to the car's dashboard or the desk – a complete versatile and multi-purpose mount. VACUUM is intuitive and quick to use! Just snap your phone to your bike or car and remove it with one hand! The perfect navigator on board, your smartphone can be quickly and easily attached to the dashboard of the car! In addition to the magnetic suction cup with an operating lever, the VACUUM car vent base consists of a ball head and claws that are clamped into the car's ventilation panels. This connection is securely fixed with a locking ring. VACUUM Phone Case not included.
Best phone mount system for bike and car period!
I've tried tons and tons of cell phone mounts over the decades and the Fidlock Vacuum system is by far the BEST! I have the bike mount and the car mount and they are both flawless. I'm never going back to only magnets again.
Love the product
I am very satisfied with it, better than Quadlock
Jorge, satisfaction is the key to life. Thanks so much for your review!
Perfect for carrying a phone
This works so well. I have had it for 6 months and love it. The phone stays in place easily AND it pops off easily. This is my 3rd phone mount attempt and is definitley the best of anything I have tried
Suze, may we hope you never lose a phone on a ride again! Thank you for your review.
Fidlock USA
Great product from a great company
This fit perfectly on my bike and works exactly as I needed it to. I made a mistake when ordering and the customer service was very responsive and took care of everything quickly. I can't recommend this company enough.
Thanks Matt, glad you are enjoying!
Great
Best mount out there its strong and easy to use the phone stays on even on the hardest terrains is a game changer