Please note: This is a 2 part system! You need a patch or phone case for VACUUM to work.
The best mount ever! Our VACUUM phone mount uses a unique combination of suction and magnets to securely attach your phone to your bike, your car's dashboard, your desk or your workstation.

Your phone can be easily positioned and connected to the mount through the magnetic guidance while the vacuum force keeps it securely locked. Even in the case of a strong impact, the vacuum pressure from the suction cup will hold the phone securely.
The centering of the smartphone is ensured by the magnetic force, so the suction power is always guaranteed. The smartphone is released by simply pressing a lever on the side of the phone base.

Thanks to the ingeniously simple combination of magnetic force and vacuum pressure, the smartphone can be operated with one hand and is 360° rotatable, while a ratchet prevents it from rotating during a ride - even on roughest of trails!
Super lightweight and strong, our phone mounting system consists of a base (available for various applications) and a special, ultra-thin smartphone case with an embedded geometry.

The slim case protects the smartphone on and off the base. The understated elegance of our stealthy case with its shock-proof TPU surrounding is accompanied by a stylish as well as practical ratchet and recessed geometry.The soft material on the inside protects the phone's
Please note: This is a 2 part system! You need a patch or phone case for VACUUM to work.

VACUUM phone case not included. Buy one here
VACUUM Patch is not included. Buy it here
- For installation on the handlebar
- Fits all bar tubes, 22-46 mm
- No interference with electronics
- Fits all VACUUM cases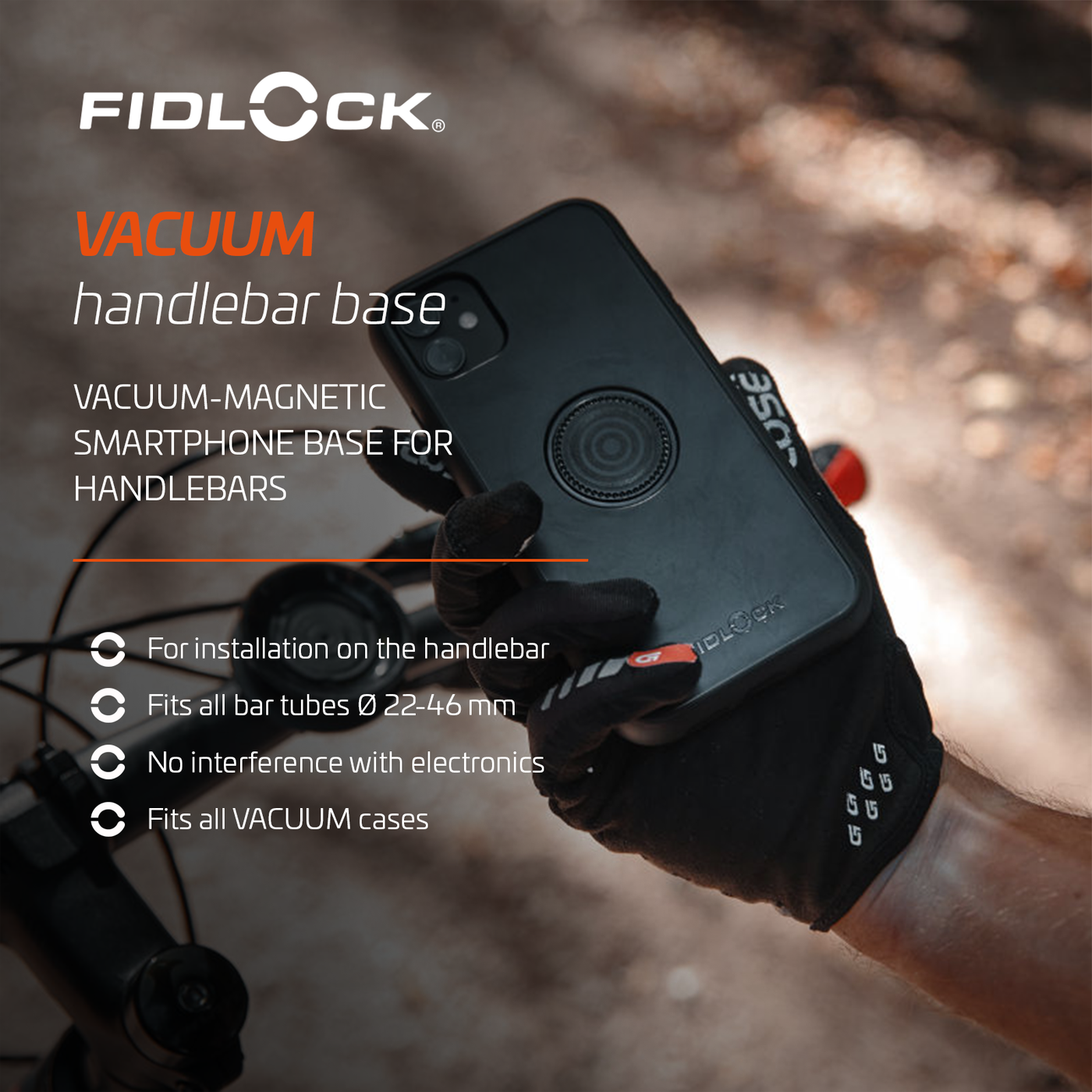 VACUUM Handlebar Base for Smartphone Mounting
Our unique VACUUM phone mount uses an ingenious combination of two invisible forces to securely attach your phone to your bike, but also to the car's dashboard or the desk – a complete versatile and multi-purpose mount. VACUUM is intuitive and quick to use! Just snap your phone to your bike or car and remove it with one hand!The perfect navigator on board, your smartphone can be quickly and easily attached to the dashboard of the car! In addition to the magnetic suction cup with an operating lever, the VACUUM car vent base consists of a ball head and claws that are clamped into the car's ventilation panels. This connection is securely fixed with a locking ring. VACUUM Phone Case not included.
Stays in place
Hit i tree dead on today, everything went flying, my glasses and my water bottle(regular cage) handlebars completely twisted but my phone stayed right in place. Very good case and holder.
Man vs Tree
Tree wins
15 Days and Counting
Still haven't received this after 15 days. Emailed customer service and still no response. Be weary of ordering from here..
Update:
The reply below has the wrong product that I ordered and the shipping number for another order. I ordered in July. Don't let them fool you, they can't even figure out the right order for the reply.
Hi Andrew,
Have not heard from you at the support email address. I can go ahead and cancel your order and refund you. Not sure why this order has taken long to get to you. I can send you the tracking number once you contact us via email.
Thank you.
Fidlock USA
Incredible customer service
I have multiple products and love them but most of all the customer service is amazing! Great people, super fast shipping, keep up the good work.
Christi, you make us want to be incredible! Thanks for the review, here is a code for your next purchase! Use 'Review15' at checkout. Any issues please let us know!
Navigation Enabled!
100+ miles of riding in New York, Boston and Chicago confirmed the utility of the Fidlock vacuum handlebar base attached to my Brompton City Bike. IPhone is securely mounted and easy to take off. Full functionality of smart phone is always in sight and available.
Matthias, we hope you are as stuck on us as is your vacuum system! Thanks for the review!
Best ever
This is the best bicycle phone mount I've ever used. I can literally just place the phone on the mount, and it's attached so securely I can lift the bike up by the phone. There's nothing to align or twist to lock down. The mount doesn't add any awkward thickness to the phone case.