The TWIST bottle revolutionized the water bottle. Without the conventional bottle cage, this magnet-mechanical bike bottle system offers a new kind of freedom in handling and application. It is simply released from the bike with an easy "TWIST" movement and just as easily reattached by bringing together the magnetic holds, which include a mechanical locking system.

If the bike has no thread inserts at all or if they are already blocked, the TWIST bottle 590 comes with the TWIST uni base. This universal frame adapter can be easily attached to any pipe with a width of 28 – 62 mm thanks to the long TPU zip ties. The smooth rubber back of the universal bike bottle holder protects your frame against scratches and helps to hold the uni base in place.

Includes the TWIST uni base for attachment to any tube with re-closable zip ties.
- New ergonomic design for a more intuitive twisting off and snapping to the TWIST base
- New connection technology for a strong hold without the Gravity Kit
- New leak-proof, self-sealing bottle cap with a high water flow valve plus an optional dirt cover
- Improved squeeze due to a soft, BPA-free polyethylene
- 590 ml / 19.95 fl oz volume with rounded edges offers a bigger frame compatibility
- Color: transparent black
- Dishwasher-safe
- Fits all TWIST bases
- Fits all bike frames
- Quick and easy mounting
- Elastic and reclosable zip ties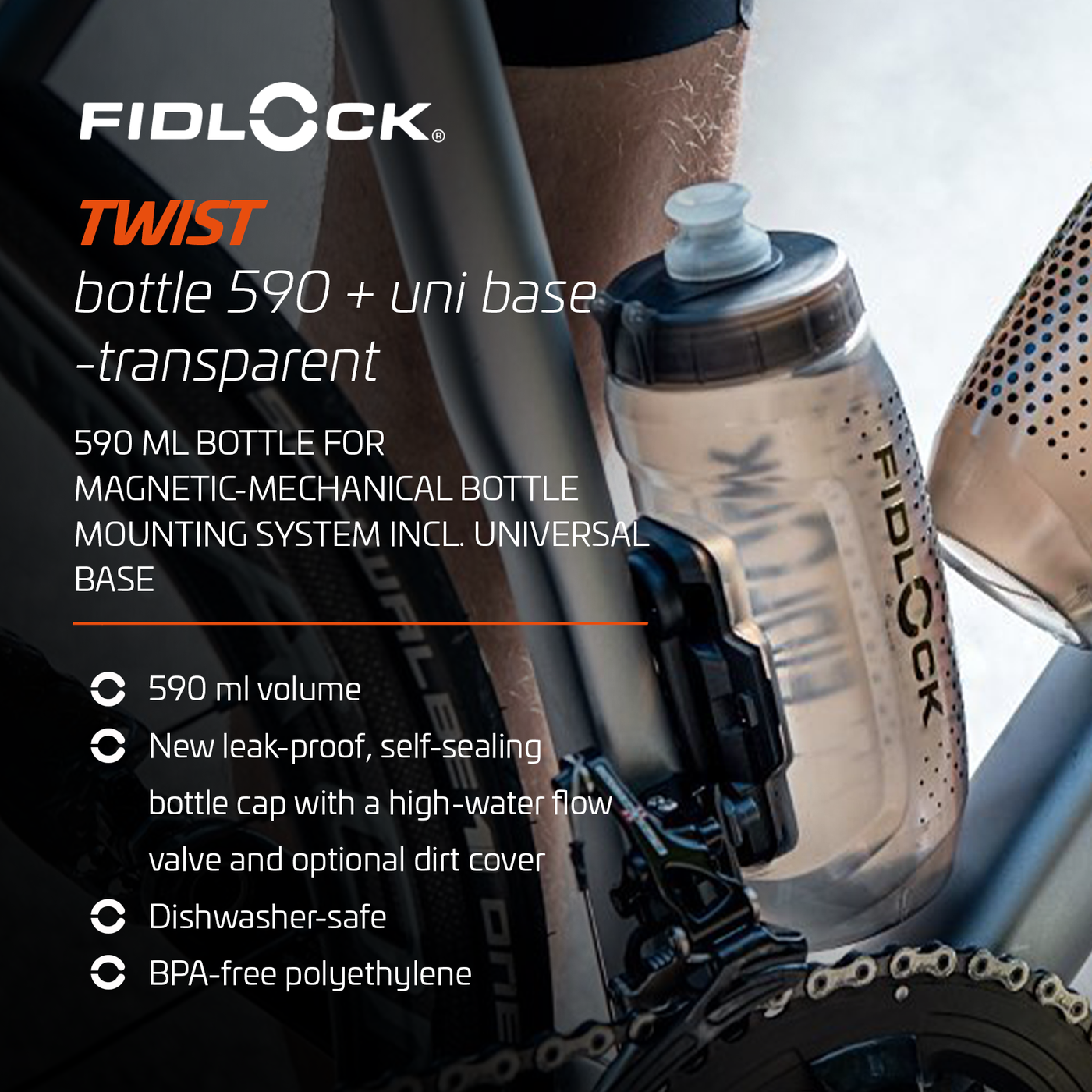 TWIST bottle 590 + Universal Base
Our innovative TWIST Bottle + Base System provides you with the complete kit to mount your new, life-changing Fidlock hydration system anywhere. Available in multiple bottle sizes, find your bike's perfect fit using our bottle comparison and fit template page.
Mine fell off
I was riding on a trail behind our house and when I got home it had fallen off. Idk how it would have happened, my daughter was riding with me so we weren't going fast. I liked it a lot but if fell off randomly
Hey Colby, we are sorry to hear your bottle fell off randomly. Are you using the screws that came with the base? Sometimes we see this happen when the screws are not flush with the base, which should be somewhat flush with the tube it's mounted on. If you still issues, shoot us an email and we can replace it for you.
the convenience!
The best water bottle for tricky bikes that didn't leave space for a bottle cage. And the magnet system is so satisfying and quick to use. Super stoked with our bottles!
TWIST bottle 590 + uni base
I finally found something that really works if you don't like to carry a camel-back - I now have three Fidlock bottles: one with the rubber cables and the other two with the frame brackets. I ride a small frame trek and they all fit perfectly.
In total I can carry 1,6 L of liquid, and with the 800 ml bottle coming , even more!
great option for tricky places
I am swapping between multiple bikes and this has been great to also have my son that has no bottle bosses use one of these bottles as well as my tandem I can put on a pump with the extra lashing and secure a bottle at the same time love my fidlock stuff next up is a push bag.